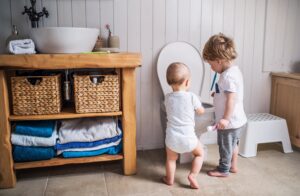 Bathroom remodeling does two things, it updates the aesthetic appeal of your bathroom and makes it easier to use. This can be important in multiple different ways, so we'd like to use a blog post describing to our customers who might be on the fence about why a bathroom remodel might be a huge improvement for your life.
For instance, bathroom counters and sinks that are remodeled can usually be cleaner looking, which means that it's easier for you to spot bacteria and other contaminants that have settled on them. Spending less time keeping these surfaces clean and healthy means that you'll be able to spend more time doing fun things in life.
Of course, a bathroom remodel in Appleton, WI can be an intensive ordeal and is not for everyone. But it might be perfect for you! Let's figure out how you can benefit from this.
Improve the Value of Your Home
It's no secret that the housing market is crazy right now. People are willing to pay a lot of money for a space that's not just functional but updated to look modern. This means a well-lit, tiled bathroom with modern appliances will jump up the value of your home on the market by a serious amount.
For many of our customers, this could be a huge boon in retirement savings, or it might translate to more opportunities to spend time with grandchildren. Everything in the world costs money, so having more of it might be a great thing, even if the solution is remodeling areas of your home like the bathroom.
Plus, a remodeled bathroom can allow for convenient handles to be installed if anyone in your home has a disability or specific need.
Give People a Reason to Spread Out
People will avoid areas of a home that don't feel welcoming. Sure, you might tell someone that the upstairs bathroom works, but if the lights aren't on, and the bathroom isn't clean or nice looking, then people can likely subconsciously avoid a space.
Unfortunately, you can't force someone to be comfortable in your home. What you can do is remodel your bathroom to look clean, welcoming, and warm. This can give people a good reason to spread out a little bit in your house and explore areas that they might not have otherwise.
Do yourself and the guests in your home a favor, and get your bathroom remodeled.
Newer, More Efficient Appliances
Sometimes, a remodel can actually save homeowners on water or electricity costs due to the fact that newer appliances are more efficient. For instance, a new toilet might look great in a remodeled bathroom, but it's also going to use several gallons less water than an older toilet, which can save you money every year.
This goes for electrical appliances as well. Old laundry units, towel warmers, and other electrical appliances that might be in your bathroom will not only be safer with a remodel, but might use less electricity due to high efficiency. It's just something to consider when weighing the options.
For a great remodeling job you can be proud of, contact Tureks Plumbing Services. Terrific People, Terrific Service.